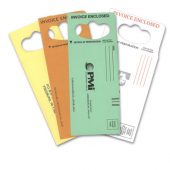 We manufacture Doorknob hangup envelopes in two sizes, Regular (Standard) and Super Size. Each will hold a personal check, but the Super Size will also hold a fuel meter ticket folded in thirds. Either are easily imprinted with your custom copy on both the face and the back sides.
We have had excellent growth in both of these doorknob hanger sizes over the past several years, with far above average growth in the case of the Regular size because we now manufacture it in 7 different colors: Pastel Blue, Brown Kraft, Canary Yellow, Pastel Green, Pastel Pink, Britehue Orange, and White. Many of our doorknob hanger customers tell us that their accounts receivable collection time dropped markedly when their delivery person began leaving invoices in a doorknob hangup envelope.
Turn around time: Plain, no printing, 24 hours. Printed in up to 2 colors, 5-7 days after proof OK.