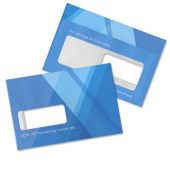 Windows onto the world, that's how we like to think of them.
We are really big into making window envelopes, especially in sizes up to 7″ x 11″ (booklet style), where we can create envelopes with multiple windows on the face and the back. Matching the window sizes and location to the contents of the envelope can be intimidating, so it may make good sense to take advantage of our design service which ensures that the window sizes and location are in sync with the enclosure. Please click on the "Custom Envelope" product shown on this page and fill out the online quote form to start the process. You can bring us up to speed quickly by including a pdf (rough sketch is fine) of your project.
If it is standard size window envelopes that you need, plain or printed, just let us know what size, the paper (white wove, brown kraft etc) and how many, and we'll get back to you quickly with a quotation and the turnaround time. If printing is involved a pdf of the copy and position is helpful in avoiding any misunderstanding. If you run your window envelopes through a laser printer,  you may be interested in our "#10 Laser-Safe Window Envelopes" product (shown on this page) with Laser-safe window film.
We also have Full-View Window envelopes with regular gum or peel n' seal in select sizes available. Just click on the "Full View Window Envelope" product on this page.