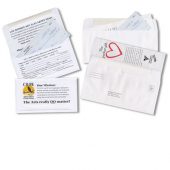 The two most popular sizes of remittance envelopes (also referred to as Kost Kuts) are # 6-3/4 (3-5/8" x 6-1/2") and #9 (3-7/8" x 8-7/8"). We manufacture both of these sizes with the seal gum at the end of the flap in the "normal" position, or with the seal gum up close to the throat (called drop seal) and a perforation so that the reply stub can be easily removed and returned inside the envelope.
We also make #9 in both single and double bangtail formats, with removable stubs. Click here to learn more.
All of these remittance envelopes will fit inside a #10 outgoing envelope.
We maintain a healthy inventory of plain unprinted remittance envelopes with the flaps extended for 3- 5 day turnaround with one or two color printing. The printed envelopes are shipped flaps extended, with folded flaps as an option (longer turn around and increased cost). We also inventory a remittance envelope designed specifically for binding into Perfect Bound periodicals.