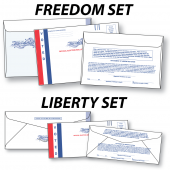 Will your State be using Vote-By-Mail Envelopes this year? 
If so, will your ballots be folded in half, or in thirds? We have ready to use nesting sets of 3 envelopes for either of these folding configurations.
Freedom Set:  For bi-fold ballots (for ballots that are folded in half).
Liberty Set:  For tri-fold ballots (for ballots that are folded in thirds).
Each set has 3 envelopes:
One Outer Envelope that carries all the Vote-By-Mail materials. The outer envelope (OE) can have a window of almost any size in a runnable position if required whether on the front, back or both front and back. [largest envelope]
One Reply Envelope to bring the "ballot box" envelope back to the precinct. [2nd largest envelope]
One "ballot box" envelope that actually holds the voter's ballot and provides secrecy. [smallest envelope]
Your order quantity can be as precise as you want to make it. If your list has 15,670 voters we can give you exactly that number of sets with a little insurance (and we always round up to the nearest set of 500 so in this case you would get 16,000 sets). Talk to us about your anticipated waste factors and we will accommodate.
Please browse our Freedom Set or the Liberty Set products below. Envelopes can be printed in one or two colors on the front and back (same colors on both). Once you submit the quote form on the product page, we'll get right back to you with pricing.